Thailand is famous for its beaches and islands. Some of them could better be described as too famous, others as infamous.


When an island has an airport built on it, its character rapidly changes. The package tours fly in, and the tourist industry soon provides luxury hotels constructed out of concrete and everything else the package tourist requires, jet skis, macho motorbikes, discos and restaurants and bars to suit each tourist's nationality. Thus an end, is brought to the tropical paradise.


I went to Koh Samui before it had an airport. I went to Phuket's Naiharn Beach before its beauty was ruined by its first hotel. Going to either of these destinations would certainly lead to disappointment.


I have also been to Koh Chang, Thailand's second largest island. As yet there are no ugly concrete hotels there and, with luck, as it is a national park, there never will be. Another consideration was that unlike Koh Samui the best beaches are on the West side of the island. I am a photographer, and I have always found it easier to get good sunset shots than sunrises. I think that is because I am more likely to be out and about when the sun sets. I went there twice last year with my girlfriend, Kanjana, and we both had a really good time. I regard some of the photographs of I took of her at Koh Chang's Kai Bae and Lonely Beaches to be among my all time favourites. Koh Chang it was to be.


I went to a travel agent and booked a minibus for the morning. That night we packed everything we thought we would need including a tent so that would be ready when the minibus came to pick me up in the morning. Usually I do not bother to carry a tent, but the last time we went to Koh Chang we arrived on Friday May 1st, not realising that Labour Day was a public holiday in Thailand. That time we walked the length of a beach trying to find a bungalow, but ended up renting a tent and feeling lucky to get one. As we were going at the Christmas-New Year peak season, I thought it would be good to have some insurance.


When I asked Kanjana who would look after her cat, Ugly, she informed me that we would be taking her. Ugly is a strange name for a cat. She chose it, not me. While I was staying in Thailand in the summer, she got a rather pretty cat. Then a few days later she found this scruffy looking stray kitten in the street across the road from where she lived, took it home and called it Ugly. Unfortunately the pretty cat got ill, and died. Now she has only one cat, which is full of life and rather pretty.


Taking a cat on holiday seemed to me a crazy idea. "Cats do not like going on holiday," I said thinking of the reaction of cats I have had whenever I have taken them out of their territory or put them in a car. In my mind I could see these images of my last cat meowing and looking frightened when as a kitten I took her to a nearby park. I could almost her my last cat saying "Meow, meow, take me home, I am frightened." Then there was the incessant meowing when she had to go in a car. Kanjana insisted and told me that Ugly liked going on holiday. "What about the dogs on the beach?" I asked. She had decided that Ugly was going with us. I could not change her mind.


At 7:30 we went downstairs to wait for the taxi to come. Ugly was in Kanjana's backpack, her head sticking out. While waiting we bought some food to eat in the minibus and I got a newspaper. At 7:45 the minibus arrived, and we were on our way. Usually the minibuses have to go all around town picking up other passengers from their hotels, but we were extraordinarily lucky. We had the whole minibus to ourselves. At least, the driver told us, we had the minibus to ourselves until we got to a place called Ban Phe, which is the port for Koh Samet, another island, which gets extremely crowded as it is not so far from Bangkok. He had to pick up some more passengers there.


I could not believe how good Ugly was, not a word of complaint. She walked around the back of the minibus to explore. When we got to Ban Phe, the driver told us we would have to wait for the other passengers. We took Ugly out for a walk. She was really enjoying herself. I had never seen a cat that enjoyed travelling before. The driver told us that the other passengers had not yet arrived from the island, and suggested we had something to eat, which I did. Eventually one more passenger arrived, and we were on our way again.


The minibus got to Laem Ngop, the port from which the boats for Koh Chang leave, at lunchtime. Laem Ngop is just a small fishing port. Near the jetty there are a number of restaurants, shops and agents selling tickets for boat tickets for Koh Chang and other islands.


As the boat to Koh Chang had left shortly before the minibus arrived, it seemed to be time for lunch. Kan ordered a drink and something to eat. I went to the market area, but much to my disappointment there was not a durian in sight even though this was a durian-growing area. Durian is an extremely smelly tropical fruit that you either love or hate. I love it. They are grown on Koh Chang, and in season, can often be purchased from a pick-up truck on the island. Durian was only available as a paste. I bought a kilo of it.


When I got back to the restaurant, a German sitting at the next table started talking to me. He was on his way back, and told me he had been staying at Koh Mak. He had really enjoyed his stay there, and strongly recommended the Fantasia Resort. We decided to discuss the possibility of going to Koh Mak with the agent that operated from the restaurant we were in. The agent said there would be no trouble finding somewhere to stay on the island. The German told me that from Fantasia you could see good sunrises but not sunsets. I checked a map of the island and looked at the West coast. There were beaches and resorts on the west from which sunsets could be seen. Better still, there were some small islands off the coast, which would make the sunsets more interesting. I asked Kan what she wanted to do. That was it, change of plan, forget Koh Chang, we had been there already, off to Koh Mak. I purchased tickets for the next boat, which left at three o'clock.


As we had two hours to kill before the boat left, I went for a stroll leaving Kan and Ugly in the restaurant. I decided to walk along the jetty. Maybe I would get some interesting photographs of boats, I thought. As I walked passed one boat, someone called to me saying that they were going to Koh Mak at two o'clock. Why wait till three, I thought. I headed back to the agent, and asked if we could change to the two o'clock boat. "Two o'clock boat, three o'clock boat, same, same," he said, "no problem." He took our tickets, and changed three to two.


I then bought myself a fresh pineapple shake. I was asked if I had booked a bungalow yet. "No," I said. "Would you like to book one?" Usually I prefer not to book in advance, but it was peak season and with prices so cheap, I did not really want us to have stay in a tent. Cats' claws are not very good for tents. Better to be safe. "What's available on Koh Mak?" I replied. The girl then took me to a desk round the corner from her drinks shop and showed me some photographs. I chose a bungalow with toilet and shower for 250 baht a night. She then got the owner of the desk who told me that it was not 250 but 350 baht for that bungalow. I complained that I had been told 250 and we settled for 300. I was glad to know that we had somewhere to stay.


We got back to the boat by two and waited for it to leave. Two o'clock passed and we continued to wait. Ugly explored the boat. As the engine had not been started yet, I got off the boat to take some photographs of some people loading a pick-up with coconuts. I noticed an ice-cream seller nearby, and thought I would eat one while waiting for the boat to go. Kan did not want one. I ate the ice cream and waited. Then I bought some fruit, green mango and guava, and Kan helped me to eat that. Then we waited. Soon I realised what "Two o'clock boat, three o'clock boat, same, same" meant. There was only one boat. It left at 3:15.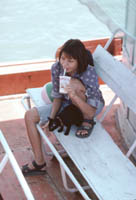 There were only a dozen or so people on the boat and all of them seemed friendly. We discussed where we were heading. (A Frenchman was going to an even smaller island, Koh Kaam, after getting to Koh Mak. "Do you think I will be able to get anything to smoke there?" he asked. "No problem, my guide book says that the resort is owned by an ex-cop so I'm sure you can get something," I replied.) It was an extremely pleasant trip with beautiful views of Koh Chang and other islands. The adventurous Ugly seemed to enjoy the trip, too. She had a bit of a sleep with Kan. Thai women and cats seem to have similar sleeping habits. They can sleep anywhere and anytime. They also seem to like to spend most of the day asleep. As the sun started to set, we approached Koh Mak. The boat stopped just off the island by a small village. A small boat came out from the mainland to pick up one of the passengers. We then continued to the port on Koh Mak.

Kanjana and Ugly
Lined up on the jetty waiting for the boat were a few agricultural tractors with carts attached to them and an old pick with Bob Marley painted on the bonnet. We got the feeling that we had made a wise decision coming here. We got into carts and waited for the drivers to come. The local dogs seemed to express an interest in Ugly, but we thought it was better not to let her loose to play with them. We kept hold of her. An Englishman clutching a bottle of beer appeared. "Are you the driver?" I asked. "No," he replied. I started talking to him and learnt that his name was Steve, he came from Liverpool and operated some bungalows on the island called Lazy Days, but not the one I had booked. He was friendly and amusing. Then a German showed up. He was in charge of the bungalow I had booked. A Scottish girl who was on the boat was asking all the bungalow operators if they had any empty bungalows. None had. Good thing I had booked one, I thought, especially as it was already getting dark.


I showed my booking to the German. "Sorry we are full," he said. Having been travelling all day I was not happy to hear that and told him so. He offered me a cheaper bungalow without toilet and shower for 100 baht a night, which I declined mainly because I was annoyed, but also because I found Steve rather amusing and thought that the atmosphere at his place would be more entertaining. Good thing I had brought a tent. I got off the cart behind the German's tractor and into Steve's. The Scottish girl who could not find anywhere to stay was also in it; she was going to spend the night sleeping on the floor of Steve's restaurant.


When we arrived at Lazy Days, we ordered something to drink and looked through the menu. Sea air is always good for the appetite. While waiting for dinner to arrive, I pitched the tent. Kan played with Ugly. Steve advised me not to put the tent under a coconut tree and helped me choose a suitable place. It only took about five minutes to put up. I told Steve to put me on the waiting list for a free bungalow.


Back in the restaurant my drink had arrived. The food took a long time to come, but I have never been a fan of fast food, and everything is slow on Koh Mak. I was introduced to Steve's wife, Diane and his child and the other foreigners working there, Clive and Lucy. Steve is a PADI (Professional Association of Diving Instructors) diving instructor and his wife, also an accomplished diver, assists him. I also met and talked to many of the other people staying there. A cat is a good conversation piece. It was definitely a friendly place. Ugly met the local dogs and they seemed friendly, too. That was lucky.


That night we slept in the tent with Ugly. I was worried that she would start clawing everything in sight, but she did not. She was still playful and the only things she wanted to claw were moving objects like my feet. The tent could still be used on another trip, even in the rain.


In the morning I got out of the tent and looked upon the clear blue sea. A lovely day, but that was not surprising as at this time of year every day is lovely. In winter it is hot and sunny but not too hot, and rain is rare. In fact during our holiday every day was hot, and it never rained. I thought it was also time for Ugly to get up. As she was a house cat who did not normally go out, I thought it was time to teach her a few things every cat should know. First, she had to learn to climb trees. I placed her on an almost horizontal branch, and for the first time she looked a bit nervous. She had not done this before, but soon she tried walking along it. Her first lesson completed successfully, I thought it was time to teach her something more difficult, steeper inclines. I placed her on the trunk of a coconut tree, and she held on but did not move. Then she tried moving. Up was no problem, but she fell off when she started to come down. She soon learnt that it was not a good idea to turn round and try to go down forwards. She learnt to go into reverse and really stick those claws in for steep inclines. I felt more relaxed about the dogs now that she could climb trees. If she was chased, she could run up a tree and the dogs would not be able to follow her.


Having taught the cat to climb trees, I thought it was time for a swim. The water was clear, clean and warm. Some coconut trees hung over the sea. On one of these someone had nailed some pieces of wood to make it easy to climb and tied a rope. Someone told me what to do. "Climb up it and jump off into the water." I climbed up. "Now stand on the third step, hold on to the rope, and lean back." When I was on the ground, the rope did not see to be too high up. It looked a lot higher once you had climbed up. "Place the bottom knot between your legs and then just let yourself fall." It looked a long way down, and I do not have a head for heights. I went for it, and it was fun swinging over the sea and then dropping into it. Nothing like a swim before breakfast.


After breakfast I walked to the next group of bungalows to arrange a refund from the German. He said I had to pick it up from the agent at the port. I foresaw problems. What would happen if back at the port they told me I had to get the refund on the island? The next day he was sending someone to the mainland so we agreed they would pick up my refund and give it to me on the island. It was not a lot of money, but a principle was involved.


The rest of the day was spent relaxing on the beach on the beach with Kan and Ugly. Anyway we wanted to keep an eye on Ugly and did not think that she wanted to go for a walk. She certainly did not want to go for a swim. Kan and I played with Ugly and watched the dogs. One of the dogs was starting to become friendly with Ugly. It is so easy to just let time pass on an island like this. I talked to many people while relaxing there. Kan seemed more interested in playing with Ugly and the dogs. By the end of the day Ugly was playing with the dogs and climbing trees. They would chase her until she ran up a coconut tree. It was just a game, and it was evident that she was in no danger. The beach at Lazy Days seems remarkably friendly. I had a long conversation with a retired couple, and Englishman and his French wife.


I learnt that he had been an advertising executive in Paris. He and his wife had given up their jobs seven years ago and had been travelling ever since. They had worked out that if they lived inexpensively, they would not need to do any more work. They told about some of the places they had been. As his wife was French, we inevitably discussed food. They told me that they had seen many sea urchins (uni) in the sea near some of the islands. We agreed that it was a pity that they were not available at any of the restaurants.


That evening the sunset was a little disappointing. The sun disappeared behind cloud before it hit the sea. Before the sun set in the West, the moon had risen in the East. I headed to the restaurant where I met Steve. Some people who had just arrived were starting to ask about the availability of bungalows. I quickly told Steve that when I got a bungalow, someone else could use my tent. Smart move, we got the only bungalow that came up that day. The new arrivals had to make do with my tent.


The next day was spent in a similarly lazy way. After the hustle and bustle of Japan it is a pleasure just to relax and slow down. However, it takes time to slow down to a true island pace. In the morning we picked up a couple of coconuts that were lying on the ground and shook them to see if there was any juice in them. There was. I went to the bungalow and got my knife. When we travel in Thailand, we always pack some plates, spoons, forks and a knife which can be used for cutting pineapples, durians or anything else we may wish to buy in a market. Kan likes to buy food in the market and take it back to eat in our room. Actually when it comes to breakfast, she likes me to go out and buy it so that she can sleep longer. I hacked the top off one and drank the juice. It was hard work. The juice was good. Kan told me that, being a foreigner, I was doing it all wrong. She would show me. She did not seem to do any better, and I helped her. We did not pick up any more. In the afternoon at Kan's suggestion we rented a snorkels and masks and did some snorkelling. That night there was a better sunset and I got some good photographs.


Then we walked to the local village with a friend to do a little shopping leaving Ugly in charge of the bungalow. She could go in and out of the bungalow through a gap between some planks, and the dogs could not follow her. By now we felt it was safe to leave her on her own. We decided to eat in the village that day for a bit of variety. Then we went back to Lazy Days and had a drink in the restaurant, and I had a game of chess with a middle-aged Swiss who told me that he spent most of his time in India and had been travelling and living cheaply for eight years without working. It was New Year's Eve, but there was no great excitement. Everyone just wished each other Happy New Year at midnight, a pleasant contrast to some places in Thailand that tend to resemble a war zone because so many fireworks go off.


The next day we went for a walk, again leaving Ugly. She would be happy playing with the dogs, climbing trees and generally just being a cat who has more freedom than usual. First we visited the German and we got the refund. Then we continued our walk along the next bay, which was long and quiet. There were few people there. In the distance we could see some buildings. We slowly walked along the bay passing some swimmers on our way, and got to some bungalows, TK huts, and a restaurant, which made an appropriate place for a break. We ordered some food. At another table I noticed the retired couple, and they told me that they were staying at those bungalows. I felt envious knowing that could stay so much longer than me. They did not have to get back to work. So few people seem to have arranged their lives as well as they have. They seemed so happy, so satisfied with life.


After lunch we walked to the North side of the island. We headed inland walking through the coconut trees, and came to an extremely quiet beach. There was only one person we could see on it, a fisherman trying to net fish. We walked along the beach until we came to the next restaurant. As restaurants on this island are so few and far between, it was time to sit down again and have another drink and a little bit to eat. After that we headed inland and walked through the trees back to TK huts. As we walked back to Lazy Days the sun was setting. The beautiful colours of the sun setting behind the small islands offshore made a perfect end to our walk.


Back at Lazy Days we met Clive who said he was trying to arrange a snorkelling trip for the next day and asked us if we were interested. Both of us thought this would be a good idea so we said we wanted to go. He then had to try to get some more people together. They needed eight to make renting a fishing boat to take us worthwhile. It sounded good. It looked as if they would get eight together. The Scottish girl was there too. She told me that she was staying at the one of the German's bungalows. "How is it there?" I asked. "More formal," she replied. This confirmed we had made the right choice. We do not want to be formal on holiday.


The following day at breakfast I learnt that the trip had been postponed and was going to be the next day. Steve and Diane had headed off down the coast to go to Cambodia to renew their visas, and Clive had not had time to arrange a boat because the restaurant was short of staff. Never mind, time was not important on Koh Mak, another day was fine. I thought that I would also be interested in going overland to Cambodia sometime. I must ask Steve about his trip when he gets back.


As the snorkelling trip had been cancelled Kan and I decided to go for a walk in the other direction. We followed a path and had a pleasant walk, which led to a hill with some bungalows on it overlooking the port. We stopped for a drink then backtracked and headed to a different part of the coast. We stopped at another restaurant overlooking the sea for lunch. Kan was happy to find that somtam, papaya salad, was on the menu, and she ordered some. She comes from the North-East of Thailand where somtam is such an essential part of the diet that they start getting withdrawal symptoms after a few days without it. Then we headed back to Lazy Days.


The next day at breakfast I learnt that the snorkelling trip was definitely on. We just had to wait for the fishing boat to arrive. The boat arrived at about 11 o'clock. Clive had wisely decided that no one wanted a crack-of-dawn start. We all boarded the boat and Clive loaded the snorkelling gear, lunch and some drinks. Off we went to an uninhabited island. We were unloaded on the island with the snorkelling gear and lunch. Everyone found a mask that fitted, a snorkel and fins, and then headed off into the water. Not being a particularly strong swimmers, Kan and I stayed close to the shore, others ventured further, two went a lot further. I could see coral, quite a few fish including some quite colourful ones and lots of sea urchins. After a swim we had lunch, then on to the next island. Two people were missing, but apparently this was no problem. They had swum off to another island. The boat headed to that island, and as we approached it, we saw two people swimming. They got back on the boat, and we headed for the next island, Koh Kaam. We followed the North side of Koh Mak. We could see the beach we had walked along a few days before. We were unloaded at Koh Kaam, a small island with one beach and a few bungalows and a restaurant. We did a bit more snorkelling and then went to the restaurant for a drink and a bite to eat. (I did not see the Frenchman who was on the boat from Laem Ngop to Koh Chang. Maybe he could not get anything to smoke and moved somewhere else.) Koh Kaam was pleasant, but I thought a little too small to stay on. Late in the afternoon we headed back to Lazy Days. When we got back, we were welcomed by Ugly. She seemed to be saying, "I've had a great time climbing trees and running around, but nice to see you have not forgotten to come back to me." We had a shower then watched the setting sun.


Every evening about sunset the tractor heads off to the port to meet the boat from Koh Chang, but it would not start. There was some problem with the starter motor. A crowd gathered round the tractor and pushed it backwards up a small hill. I helped. Then we pushed it down the hill to start it. It started. We were glad it was only a small tractor.


The next day was to be our last on the island. Kan was starting to worry about the fish she kept in a fishbowl in her appartment. They would need feeding and clean water. We spent it our last in true style. We did nothing. That is not quite true because I did take the tent down, do some packing and had a swim, but it was a quiet, relaxing day. We had to get up early the next day to catch the eight o'clock tractor to the port.


We got up before eight and with regret checked out of Lazy Days. Then I had to join the crowd push-starting the tractor. At the port we got on the boat back to Laem Ngop. We enjoyed the trip back even though we were sorry to leave Koh Mak. On arrival at the port we booked a minibus, but we had to wait an hour or so for one. While waiting, we ate lunch at the seafood restaurant overlooking the jetty, and would strongly recommend the stuffed crabs to anyone who goes there. I will have some the next time we go to one of the islands in that area.


Those who demand the creature comforts of modern life should not go to Koh Mak.
If you have never been to Thailand, perhaps it may be better to visit Phuket or Koh Samui first. After Koh Mak Phuket and Koh Samui will be a disappointment. If you have already done the more famous islands, can live without jet skis, discos and Big Macs, try Koh Mak. What makes Koh Mak special is not what it has got but what it has not got.






Koh Mak is in the Koh Chang National Park, which is not far from Cambodia. As the rainy season brings extremely rough weather to the area most resorts operate only from November to May.
Lazy Days Resort can be contacted by letter. Write to Lazy Days, POB 21, Trad, Trad, Thailand 23000. Simple wood bungalows without toilet and shower are 100 baht per day (per bungalow not per person). There are showers that can be used but there is no hot water. However the water is not too cold. Electricity is on from sunset to midnight. Telephone calls can be made from the restaurant. Food is cheap, both Western and Thai being available. Snorkel trips are 350 baht per day, scuba trips 900 baht per day including equipment (US made) and 1 tank of air. Lazy Days can arrange a fishing boat charter for a group for 1,500 baht per day.


Transport
Tractor-taxis on the island are free. The boat from Laem Ngop is 170 baht. A minibus from Bangkok is about 350 baht. It should also be possible to take a taxi from Bangkok for around 2,000 baht.